Innovative Healing
Techniques.
Getting people out of
pain for over 15 years.
We specialize in Trigger Point Massage. Our massage therapists can use a number of different techniques to loosen up the knots, including myofascial release and deep tissue massage.
The goal of our therapeutic massage is to greatly reduce pain, to soften scar tissue, to lengthen the muscles and to promote circulation and blood flow. Benefits included but are not limited to better flexibility and range of motion, prevention or relief of delayed onset of muscle soreness, reduced risks of injury, decreased recovery time between workouts, increased physical and mental relaxation,  and increased circulation and immune system.
Your Connection to Health.‍
Frequency-specific microcurrent (FSM) is a way to relieve pain using very low levels of electrical current. This treatment option can be used on specific tissues in your body to help with pain caused by injuries or medical conditions. It's typically painless.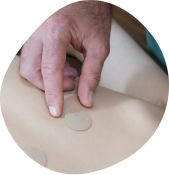 Amino Neuro Frequency Therapy is a revolutionary, holistic approach to treating pain, inflammation and promoting faster healing.  ANF is a 72 Hour wearable frequency emitting therapy with NO contraindications. Each disc (currently 180 different disks) has it's own unique frequency.  By combining disks we can normalize and optimize the body functions (nerves, muscles, organs, lymphatic system and hormonal production).
NeuroKinetic Therapy®, known as Neuromuscular Reprogramming® (NMR®) in its previous incarnation, is an innovative and increasingly well-known method of manual therapy which utilizes manual muscle testing to assess and correct dysfunctions of the coordination system of the brain. These dysfunctions commonly result from traumatic injury, over-use, under-use, repetitive stress, postural stress, etc.
Systemic Emotional Release is an effective treatment for anxiety with a profound effect on the nervous system, the production of stress hormones (particularly cortisol) and brain activation, rebalancing emotional dysregulation. This method is based on Psychoanalysis, Internal Family System and EFT (Emotional Freedom Technique).

WHAT ISSUES CAN SER THERAPY HELP WITH IT?
Manage short term or chronic stress
Regulate the nervous system
Reduce cortisol levels
Improve anxiety
Overcome fears
Elevates your level of consciousness
Trouble Sleeping
Overcome your limiting beliefs
Elevates your self-esteem and self-love
And much more.
Michael Dias
April 9, 2023
Best massage and therapy I have had. Steven knows what he is doing!!! Great!!
Julia Hatch
March 31, 2023
Went to see Brian for knee pain. One treatment with ANF and 80% better. Second treatment and still improving. He really knows what he is doing and is a pleasure to spend time with. Book with him!
Tricia Saunders
March 2, 2023
I have been to Brian for ANF therapy and NKT therapy Results were immediate for pain relief. I have had surgeries, injections, manipulations, Accupuncture etc. Brian is gifted and I highly recommend him to anyone who has been struggling with any type of spinal, or neuromuscular pain
I have been coming here to see Brian for around a year now and he has helped manage my chronic pain so I'm active and happy now.
vm slater
January 26, 2023
GO HERE IF YOU WANT TO BE PAIN FREE. PERIOD! I started with Alex for my chronic low back and nerve pain. After 2 fabulous massages, he referred me to the owner Brian for an alternative treatment he thought might help me even more (I have spine and nerve damage). After my first 90 minutes of treatment, I stood up and the pain was gone. Completely. I went home and walked up and down stairs several times - no pain. Easy, like NORMAL! Then went for a mile walk - no pain. This hasn't happened for decades! Yes, my pain returned, but with each treatment the pain-free time in between visits lasted longer and longer. Currently, I can go about 3 weeks before my next visit. My treatment has spanned 7 weeks - a very short time to tackle decades of pain. I have tried many, many different healing treatments, conventional and alternative, for my pain. This has worked the fastest and has lasted without harmful side effects. Brian Huggins and his staff have created an inviting, comfortable and safe space to treat a variety of ailments-not just pain. Brian wants his clients to not just get better, but to be healed. He does not want people coming back week after week for short term pain relief. The focus of Fairhaven Wellness is on results, not maximizing profits.
Kristen Henriques
January 4, 2023
Love ana. Her reiki is spot on and i have had many tap sessions. She is calm and soothing. Everyone should visit her for healing and encouragement.
After 6 visits with Brian, the neuropathy on the bottoms of my feet is 90% gone, I've tried acupuncture during and after my chemo treatments, but that only lasted 3-4 days after..with Brian's program it improves but a percent each time and lasts...it hasn't reverted back as the acupuncture did....I'm hoping for more improvement at my next visit.
Christopher Silva
December 12, 2022
I had no idea what to expect when I showed up to have Brian work on me. I've had many kinds of massage but this was like nothing I've experienced before. I was having chronic lower back pain from poor posture at bending and apparently had given myself quite an injury. Brian explained that the inflammation that resulted was preventing healing. He skillfully found these pain points and started putting ANF (Amino Neuro Frequency) patches there. He explained they are made of carbonized metal and are made with a frequency that relieves inflammation. I was skeptical (?) but within minutes the pain was gone! He told me to wear them for 72 hours which I have and the effects were cumulative - the amount of time allowing the muscles to truly heal. It's been life changing! When you get to be my age - 62 - pain feels like a given in getting older and it does a number on the psyche. But now I swear I feel younger and more responsive without all that "weight" of intrinsic pain! I will be back for sure!
Kathleen Grace Chandler
December 4, 2022
I've been having debilitating sciatica pain for months. Tried everything and when a round of prednisone did nothing, I contacted Fairhaven Wellness and was able to be seen the next morning. I can't believe I'm saying this, but I have been completely pain free for 24 hours so far. Brian evaluated my situation and began treatment. I went to a yoga class this morning and was able to do everything, pain-free. I wish I hadn't waited so long.
Brian is a Certified Neurokinetic Therapist at the highest level and is also a Certified Pain Therapist. He started learning Tui Na in Chinatown, Boston where his father was being treated for cancer with traditional Chinese medicine by famous healer Tom Tam. In that time Brian learned Tong Ren Therapy as well as Tui Na. From there Brian was very fortunate to work for and study with Nepalese healer Santosh Karmacharya in Cambridge, where he was introduced to a whole other view of treating dysfunction in the body from a biomechanics standpoint. This is where he began to learn about muscle testing and gait analysis to find and correct dysfunctional patterns. Brian has now been traveling all over the country studying and learning from the best Doctors and Practitioners in the world such as Dr Kathy Dooley, Dr Mikel Hoff, David Weinstock, Thomas Wells, and Dr. Carolyn McMakin. Having worked for years in a clinical setting with a sports physician has given him the experience and practice necessary to successfully treat various chronic and acute issues as well as sport related injuries. He continues to search for and study the latest and most cutting edge therapies to maximize his effectiveness.
Ana is Certified in SER Therapy (Systemic Emotional Release with focus on EFT tapping). Her passion for the Human Energy Field started 10 years ago when she embraced her own healing journey. Ana prides herself on creating a safe, nourishing environment, and offers an individualized approach for her clients. Her focus is on seeking out the root cause of the physical and emotional challenges that her clients bring to her attention. Her goal is to help guide and support her clients on their healing journey; to find their essence in a new way of BEING (SER) which, ultimately, is about letting go, and allowing in and receiving of the new energy. Working together with her clients, Ana will help uncover what may be hindering their progress and transmute the negative energy directly. She believes that by healing ourselves, not only do we gain valuable coping skills for an emotionally-rich and healthy life, but also help to break the negative patterns for the generations ahead. She is also a Portuguese speaker, native of Brazil.
Alexander is an intuitive and knowledgeable clinical massage specialist. He uses a blend of deep tissue, trigger point and myofascial techniques to find and release the source of your pain instead of just treating symptoms. The body is a multifaceted and interconnected system, and many times the source of our discomfort is not where we feel it. Alexander is particularly adept at tracing the postural and habitual causes of consistent pain, as well as the systems effected by recent injuries.
Book your appointment.
Reaching a state of homeostasis is often times reached faster when also working with our emotional bodies. That is why we have combined energy healing therapy so that each client walks away feeling empowered to live their best life.